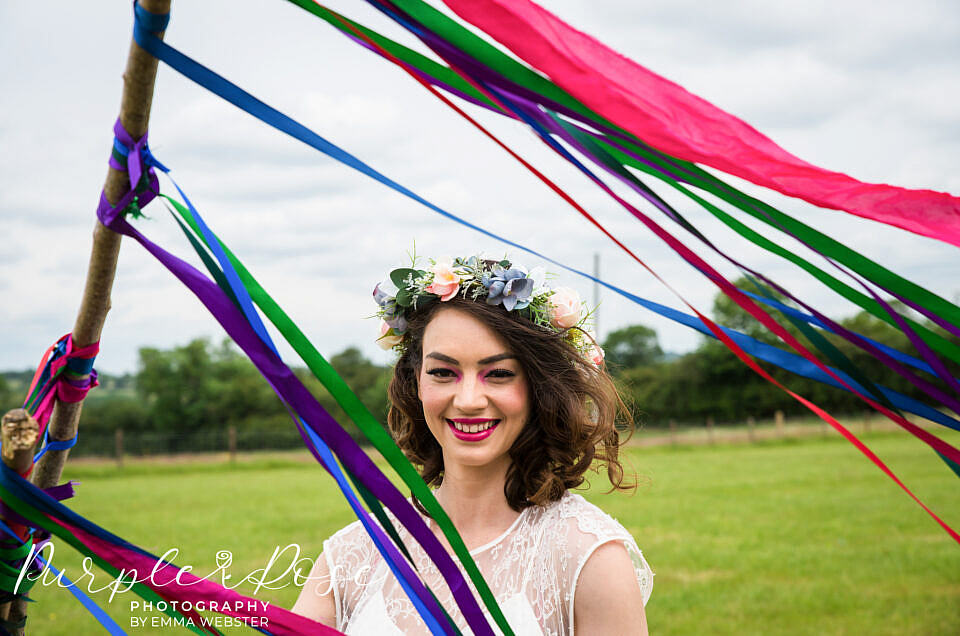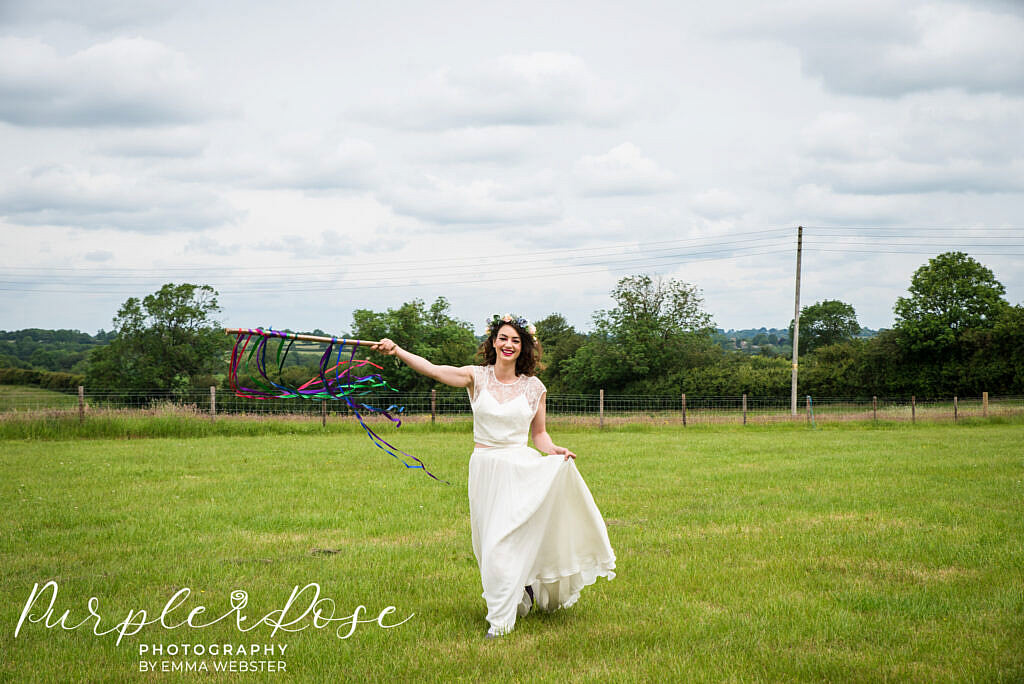 I love doing styled shoots, they let me get creative and inspire couples with ideas they may not have previously considered. For this shoot I wanted to incorporate colour, the outdoors and summer festivals.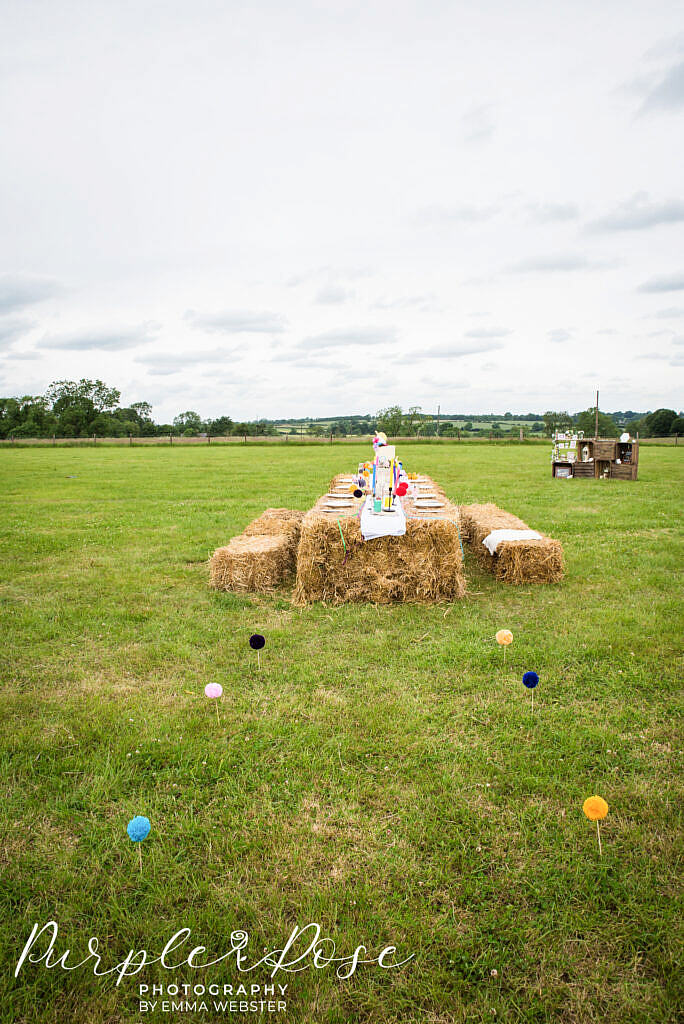 Stone Siding Events field provided the perfect venue. A blank canvas venue which couples can hire and set up exactly how they want, with views onto the Northamptonshire countryside. The venue fitted the festival theme perfectly, making use of the farms (the venue is owned and run by a local farmer couple) hay stacks as tables and chairs. We wanted to embrace ways couples could create their own simple and personal decorations so we incorporated brightly coloured ribbons and myself and my partner made lots of pompoms to decorate the venue with. Showing that you really cna make your own decorations.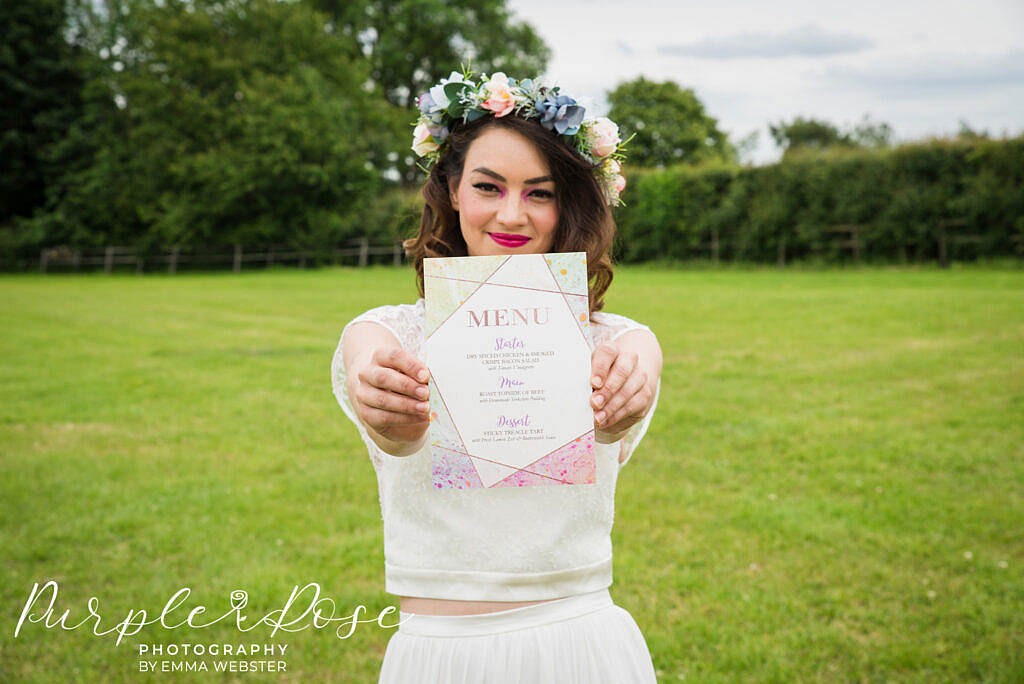 Lorner Boyer Design provided the stationery for the shoot, embracing the colourful theme and even included name cards on lanyards for guests to wear at the wedding, helping them get around any festival security. I've worked with Lorna several times and knew she'd come up with the perfect idea for this shoot.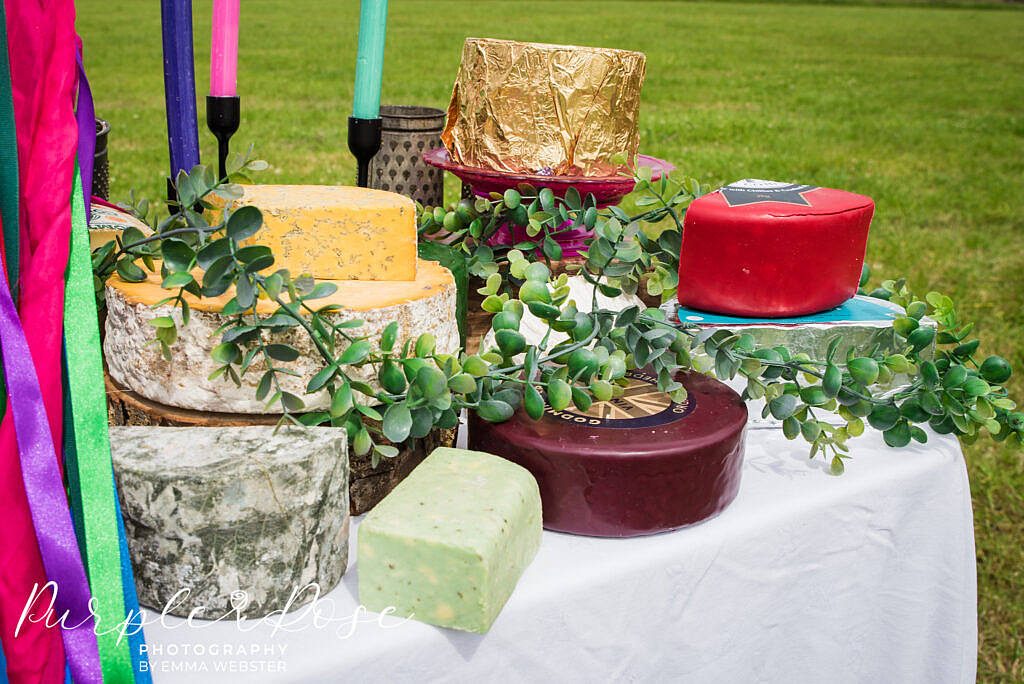 Couple's are often thinking of different ways to feed their guests outside of the main meal, so The Cheese Plate came on board to show case their offerings. As well as cheese for snacks they are able to offer the option of a cheese wedding cake for those who love cheese. To complement their offering accessories from Rose and Dandy were used to decorate the cheese table.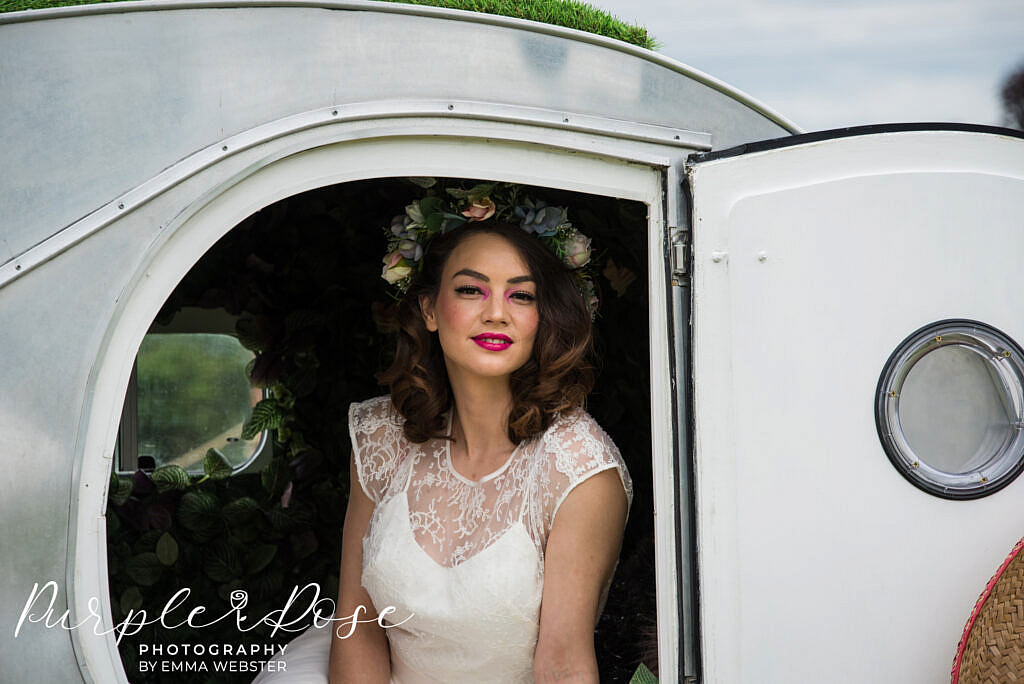 Photobooths are an ever popular choice at weddings giving guests and couples hours of entertainment. For this outdoor venue we used The Pixie Booth. This is a quirky mobile booth which can literally be driven onto site and set up outdoors, perfect for an outdoor festival themed wedding. All the vendors at the shoot were intrigued by Pixie. Great if the weather is abit changeable.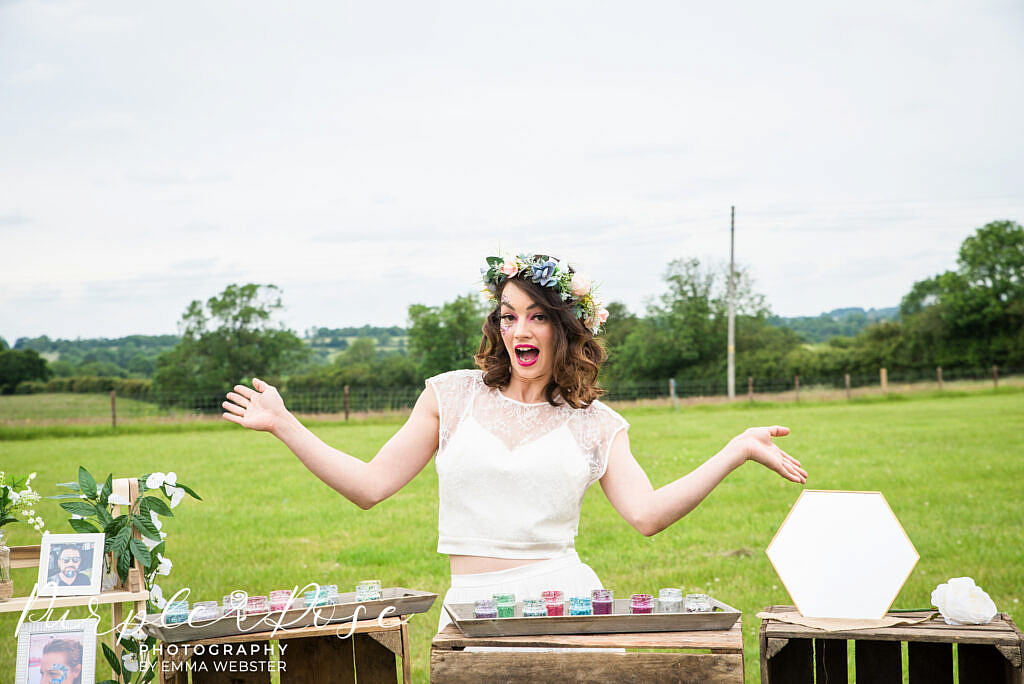 Embracing current festival trends Toni came with her Glitter Booth, ready to add glitter to our model for the evening partying. Her glitter bar itself is eye catching with lots of different options for guests to choose from. The glitter used is also biodegradable meaning you don't need to worry about any impact on the environment from the use of glitter. I've been keen to work with Toni since meeting at a networking event and it was great to see her in action.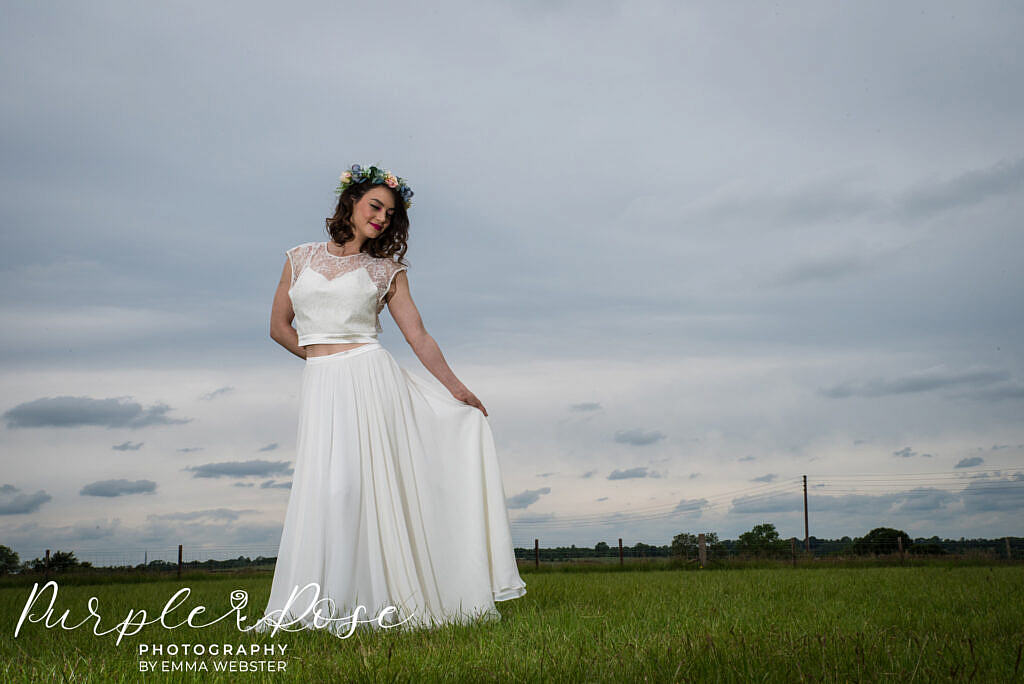 Lisa Lyons Bridal provided our bridalwear for the day, thinking of the outdoor setting she provided two piece outfit. The flowing skirt was perfect for an outdoor festival themed wedding, catching the breeze but also easy for our bride to move around in. The lace top was full of details, with it's semi open back which would help to keep the bride cool on her wedding day and adds an unusual detail to the bridal wear. Being a two piece outfit means Lisa can give you various options to make the look truly personal to you.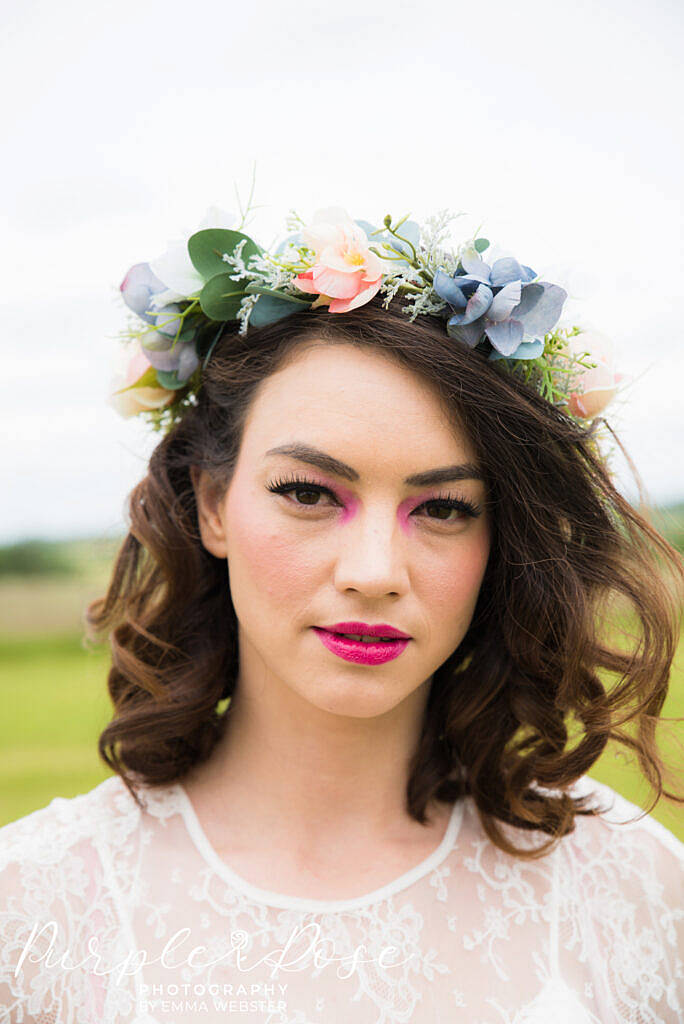 Our hair and makeup team worked together to create a festival inspired look, creating a relaxed hairstyle and bright make-up look teamed with a flower crown from Luna and Wild. The combination created a pretty look for our bride.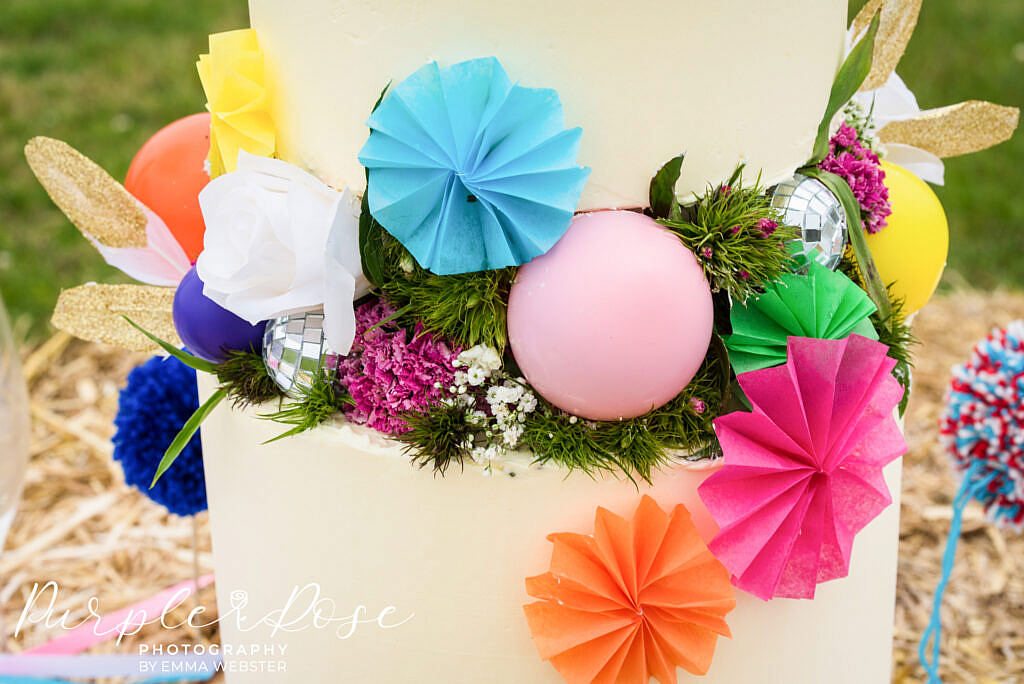 Oh My Cakery always creates bright and fun cakes, so we knew her work would be perfect for this shoot and she did not disappoint. Incorporating balloons and paper fans into her design to create a fun and wacky design. The more you looked at it the more you found which is exactly how a wedding cake should be. I love the way she really lets her imagination run wild with cakes, we were all excited to see what she had created.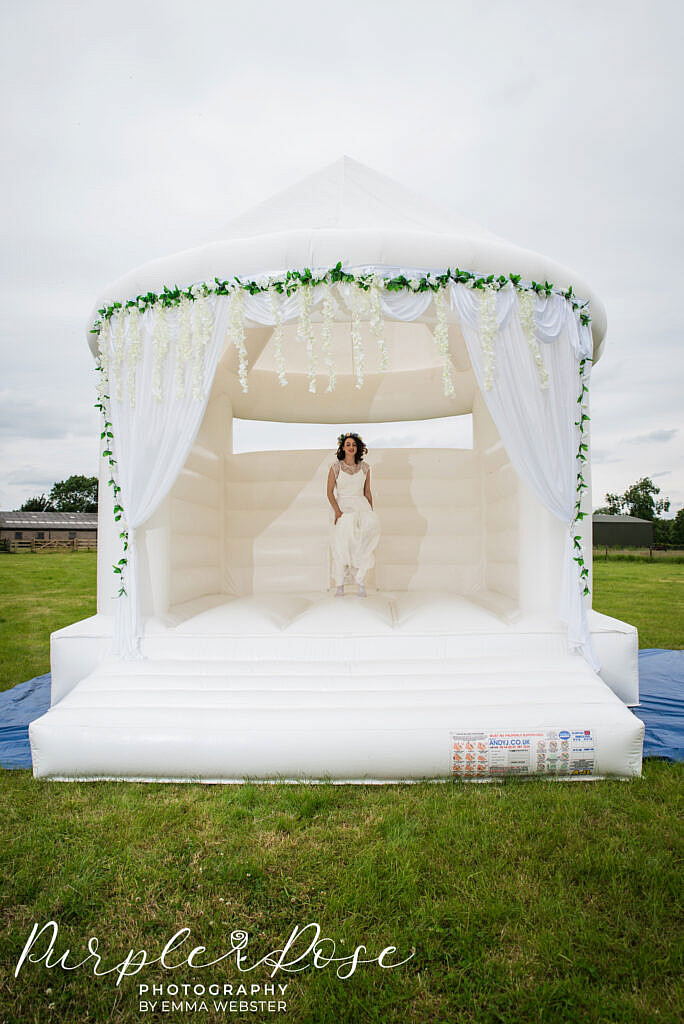 Incorporating the fun side of a festival wedding Wacky Bouncers arrived with two bouncy castles. One a white wedding bouncy castle and the second a red and white helter skelter design. I can see both adults and children enjoying these at a wedding, proving hours of entertainment. Our model certainly couldn't wait to get on them. I actually met the owners of Wacky Bounce when I photographed their newborn baby and we got talking about their business, I instantly knew they would be perfect for this. Our model certainly had fun on the bouncy castles.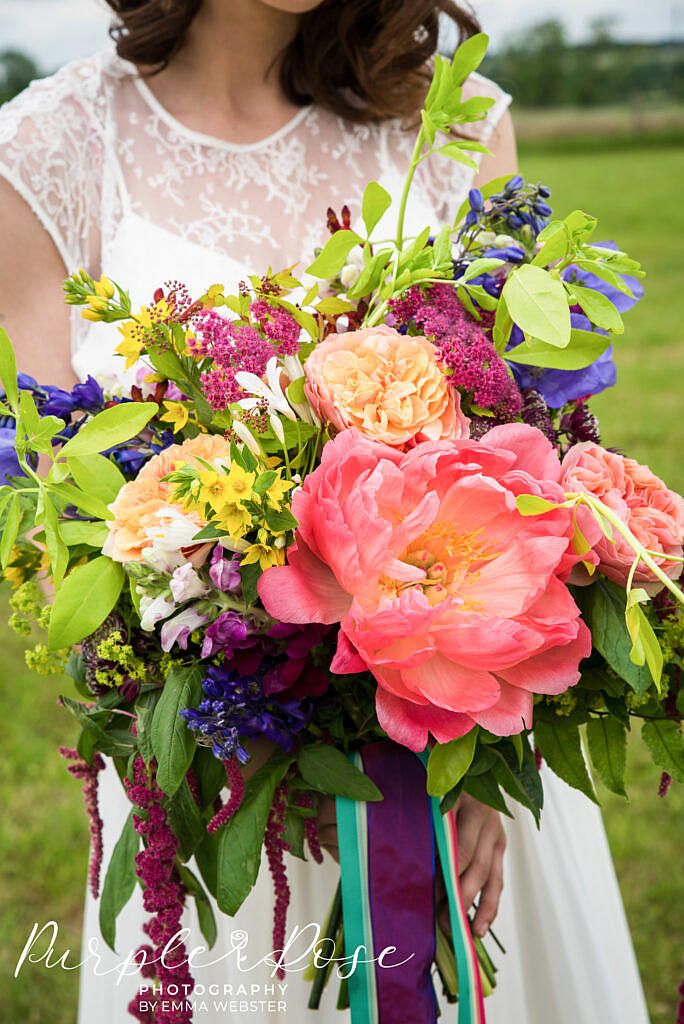 Our brides bouquet was a piece of art in its self, full of details and colour Florae Foray really embraced the fun and vibrant feel for the shoot. The more you looked at it the more variety of flowers you found in it.
I hope this has given you some ideas for your own wedding if you'd like to contact any of the suppliers involved their links are below.
Photography Purple Rose Photography
Model Kapri-alicee
Photo Booth The Pixie Booth
Cheese The Cheese Plate
Stationery Lorna Boyer Design
MUA Yvonne Aucott Makeup Artist
MUA CMA Cambridge Makeup Artist
Glitter Booth Toni Cassidy
Bouncy Castles Wacky Bouncers
Prop Hire Rose and Dandy
Flower Crown Luna and Wild
Bridalwear Lisa Lyons Bridal
Bouquet Florae Foray
Cake Oh My Cakery
Venue Stone Siding Wedding & Events Venue
---
---